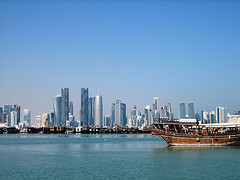 UN Climate Change Conference
Qatar is hosting the 2012 UN Climate Change Conference. It will be held in Doha from November 26 - December 7, 2012.
Sessions of the 18th Conference of the Parties (COP18) to the United Nations Framework Convention on Climate Change (UNFCCC) and the 8th Meeting of the Parties to the Kyoto Protocol (CMP8) will be held at the Qatar National Convention Centre in Doha.
There was a negation session in Bangkok in preparation for Doha. A tangible progress on three fronts that are under negotiations at the moment will be met in Doha. Firstly, the second commitment period of Kyoto protocol will be discussed. Parties want to move forward and they need to decide how the second commitment period comes into being, what rules, length, limitations, and all technical details are. Overall, they are interested in the rules of the second commitment period.
Secondly, it is necessary to complete the work under LCA or Long-term Cooperative Action. Countries will complete actions and move forward by adapting a network with institutions that will support the work of developing countries on mitigation and adaptation. Before closing LCA, Scientific Review is going to be launched next year. This Scientific Review is the process that will help countries to determine whether their perused ambitions of mitigation match real necessities of current situations.
Finally, Durban Platform for Enhanced Action known as ADP will be discussed. At this stage, countries will negotiate two major issues – the increase of current ambitions and their development up to 2020 and the context under which countries will negotiate a new global agreement that will be finalized by 2015 and then put into action by 2020. Among the three fronts' discussions and negotiations, decisions at the political level will be confronted and addressed in Doha.